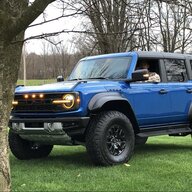 Well-Known Member
Have driven manual pretty much my entire life, but might just jump ship and go auto.

The reason is simple, I want the more powerful 2.7

The only thing that makes me question that decision is whether or not the manual 2.3 will be fast enough.

With a Ford Performance tune, it could make 345 HP and 385 lb-ft torque, which comes very close to 2.7L output figures.

I'm afraid if I go manual 2.3, I'll wish I had more power, but if I go auto 2.7, I'll wish I had a manual.

When will we have the opportunity to drive Broncos?