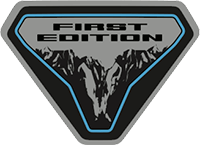 Well-Known Member
Here are some pictures and some thoughts on the Broncos on display here in Moab at Dixie Expo:
A couple pictures of the hydraulic sway bar disconnect. Some don't think it makes much difference, but when you are off-road, you want all the wheel travel you can get. I didn't get out to see the difference during my ride-along, but 6 inches would be a good guess on the rock we were testing it on. Even when the tire is hanging 6" off the ground, that is better than 12"!
The 4WP Bronco had some pretty cool features. This front winch bumper is the best one I have seen to date. The winch is up and out of the way, it is tucked up close to the body and adds a number of LED lights into the unit. They integrated their own skid plate which looks nice together. I build my own bumpers, cages and such, but this is nice enough to make me think about spending the money on it.
The 4WP light mounts are pretty nice as well. I don't like square light bars and will be doing something like the 8 round LEDs above the window as well.
They also have their own tailgate table, hopefully this will come in black....
This is the style strip I will be adding to my Bronco. If I had a Badlands, that would be awesome added into it. "First Edition" just doesn't sound mean enough.....
I am not a fan of the flare delete plates, but they certainly have their use. The rocker protection is nice, but sticks out too far in my opinion. These were mounted to the frame instead of the body.
The 4WD rear bumper was pretty nice as well. Incorporates the sensors in the bumper
I am excited to see what the aftermarket provides for the dash rails. I did see the FE on my ride-along had 1 high speed and standard usb port up on the dash. First time I had seen that... I didn't see those ports on this Black Diamond model. The rail only has 1 screw mounting point and a couple of pads to rest the outer portions on. For those with cameras and phones loading this rail up, that might be a problem. Might be seeing some creative glue use on these in the future...
Rear license plate holder and lamp assembly.
The 37" tire had a custom bracket that raised the high mounted stop lamp (3rd brake light) to provide an unobstructed view. This is also a good view of their roof rack for soft tops. The roof top tent is huge. I would have like to see it opened up fully.
You can see the rear crash bar has been modified for clearance for the 37" tires. Easy enough to do, while leaving some portion of the safety system installed. The front bar was removed and the mount left complete. I would have removed it to clean up the appearance, but that could not be easily undone.
There was not nearly as much done to this one, but it had some cool features as well. I like the bigger LED lights on top. Who cares if they whistle when at highway speeds! This was a custom grille as well with some additional light accents. I never saw them lit up.
I liked the rocker guards on this one. Not nearly as aggressive, but protect the doors and ramp outwards at the back in case you come up against a rock.
Bumper (and frame) mounted spare tire carrier. Speaking to the driver on my ride-along, who said they hadn't had any failures or cracking carrying their 35s on the suspension torture tests, this may not be needed, but you some of us are going to be going to much larger tires soon...
If you are going much wider on tires, then these flares would look pretty good, but on factory tires it was more like WTF?
Here are some other views of the flares on the others, vs offset. The Gray Bronco had the best setup (I like a little tire sticking out).
This looks like a factory sunscreen. It fit perfect and I will be buying one of these, especially with my black interior. Also a good shot of the simple bracket for running a LED lightbar up top.
A view of the side, underneath and wheel cameras that come on the higher end models. Don't be a hater.
Some additional photos...
I didn't travel all the way to Moab not to do a little wheeling. This is my Samurai that I usually take out to beat on the harder trails.
Last edited by a moderator: