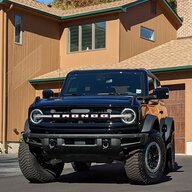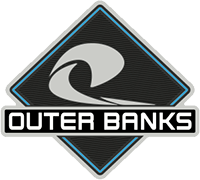 Member
First Name

Alan
Joined

Nov 15, 2021
Threads
Messages
Reaction score

82
Location
Vehicle(s)

2021 Bronco OBX SAS Antimatter Blue
Your Bronco Model

Outer Banks
UPDATE: 1 month later I've gone through 2 drive through car washes and offroading through brambles and the mudflaps are holding firm. And so is my paint job!
Eventually someone will come out with a proper mudflap for an SAS with factory side step bars. But my paintjob won't wait that long. Someone else had posted a pic of modifying the factory mudflaps so I purchased them. Ford part #M2DZ16A550AA. Here's how easy it is to mount them. I'm just a garage mechanice:
1. Turn the wheel to get it out of the way. For right side flap turn it left. For left side flap turn it right.
2. Remove the 2 screw plugs from the bottom of the inner fender lining and either remove the fender flare or at least the first 2 latches:
2. Line the holes in the flap with the 2 holes in the inner fender. I put a screwdriver in each hole to keep them aligned.
3. Using a pencil, trace the area you'll need to cut to clear the step. Remove from the car and then use a sharpie of the pencil so you can see the line better:
4. Using a Dremel tool or your favorite cutting device, cut the hole. Better to cut small and then have to go back and cut more:
I used a side cutter to make neat corners:
Test fit. You'll find that the the further you slide the flap onto the step the larger the hole will need to be. You'll want the flap to rest against the inner fender without flexing it. Once you're done you can clean up the edges of your hole with a file or sandpaper.
5. You'll need to trim the top of the flap off in order to clear the fender flare. Put the fender flare back in place, line the flap up with the 2 holes again, and now you can trace out the cut to the flap:
That's it. Put it all together now. The mudflap kit comes with some extra bolts if you want to secure it in place with more then the 2 screws. I did a test drive at 85mph and they didn't loosen. And there's no rub on the tires lock to lock. Easy peasy!
Note that the rear mudflaps part #M2DZ16A550BB have 3 screwholes that you'd think would line up with the 3 screwholes in the rear bumper but they don't. So you'll need to drill new holes to mount those. Should be easy peasy with no cutting but I haven't done so yet.
Last edited: