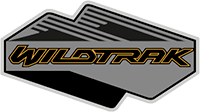 Well-Known Member
In my opinion, how this thing should roll off the factory line......... a photoshop edit to the original release photos of the Eruption Green Bronco. Color matched roof and fender flares. Removed the bull bar (in the original photo). Changed the standard Sasquatch wheels to look like the Wildtrack/First Edition wheels: aka black beauty rings (from the original photo).

Note: I organized/paid for this edit but did not perform it myself, thanks to Reddit user tropical_eye for bringing my desired configuration to life. I'm back and forth between Badlands squatch or Wildtrack but really love the green. Black has moved to #2 choice. Will likely come down to interior color preference really between the two models.. will be $2k cheaper to go Wildtrak and loose the stay bar disconnect. It would also save the hassle of painting the Badlands wheel rings and grill black as well, however I'm leaning towards the Badlands route..... anyways, hope you guys like to drool over this.

Should be full size image if you click on it. Any issues DM me.
Also try with the mirrors being gloss black too.