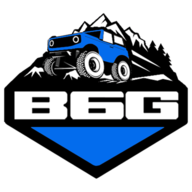 Administrator
Staff member
First Name

Doug
Joined

Jan 26, 2015
Messages
Reaction score

15,693
Vehicle(s)

Ford
Bronco

Undecided
Behold, as we bring you the first actual (non-mule) Ford Bronco (U725) prototype caught by our photographer testing in Dearborn!!
Up until now Bronco prototypes wearing the production body have been testing only internally and under the cover of darkness to avoid detection. Ford's finally decided it's time to let the world see an actual prototype after it released a teaser video last week of a Bronco powertrain/frame mule wearing a modified Ford Ranger body.
This first camouflaged look reveals a four-door Bronco wearing heavy cladding over the entire roof and rear end/trunk. The front clip and grille are heavily disguised with padding and vinyl camouflage.
Nevertheless, we can see that the design hints at an upright stance with a clean, boxy design and upright pillars leading to short front and rear overhangs which should please the off-road crowd. The prototype shows a good amount of ground clearance and a spare wheel on the swing gate complemented by what appear to be production intent tail lamps.
The side view shows a low belt line for good visibility, rounded fenders, running boards that extend the entire length from the front to rear wheels, roomy wheel wells for larger tires and side mirrors which appear to be mounted on the A-pillar (as opposed to the doors).
As for the suspension, there are strong indications of an independent front suspension (IFS) as several photos show a lower A-arm bolt.
Let us know what other details you see!
Last edited: