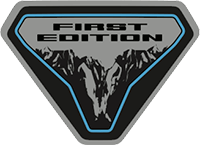 Well-Known Member
First Name

Fred
Joined

Oct 16, 2020
Messages
Reaction score

210
Location
Vehicle(s)

F-150
Bronco

First Edition
Our dirt mountain First Edition showed up this week, about 5 weeks after my wife's Badlands showed up. Really loving both of these. Couple thoughts on comparing the two (Both are 2.7 Auto, Badlands has High package)
1st. The Badlands MGV is awesome. I like the feel better than the FE leather. The MGV is softer and personally more comfortable than the leather. The leather looks better especially with the white sticking.
2nd. Both have the sound deadening headliner, however the Badlands only has it on the removable panels and not the back clamshell. The FE has it on all. Not sure why. Was this missed on the Badlands? Can anyone confirm what they have?
3rd. The rear storage area is much nicer on the Badlands. It's rubber coated, so it will wipe clean vs the FE has very thin velcro like carpet that should hold on nicely to all dirt/lint/leaves/dog hair...etc. Also the hatch to the rear storage area is MUCH nicer on the Badlands. It's thicker with the rubber top but also has carpet on the bottom side so it has some weight. The FE hatch is unfinished on the bottom and is very flimsy. It barely stays shut and rattles(photos attached) Hard to understand why they didn't finish the underside with the FE but did on the Badlands? Anyone else with a FE have this same thing?
Lastly, The Sasquatch drives great, feels very similar the the Badlands without Sas. My wife didn't want the extra height but kinda wish we would have gotten sas on both.