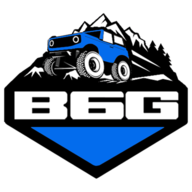 Administrator
Staff member
First Name

Doug
Joined

Jan 26, 2015
Messages
Reaction score

15,676
Vehicle(s)

Ford
Bronco

Undecided
Our photographers have caught what could be the very first shots of an early mule using a Ford Everest body to test the upcoming 2021 Ford Bronco!
Sources inside the Blue Oval wouldn't outright confirm this is a Bronco mule but did not deny it either. And from the covered front end and the fact that it was spotted testing alongside prototypes of the 2020 Ranger pickup ("Raptor", Wildtrak and Regular crew versions) it sure looks like it.
It's important to keep in mind that this represents early testing of the vehicle's underpinnings and the use of the Ford Everest body is not an indication of how the next Ford Bronco will look. In fact, Ford has made comments to suggest it will be visually distinct from the Everest.
A few things we know...
Ford has already confirmed that the next Ford Bronco will use a modified T6 platform which will be shared with next Ford Ranger and Ford currently sells the T6-based Ford Everest SUV in certain export markets.
Early rumors
indicated the next Bronco would be nothing more than a rebadged Everest, but Ford's Raj Nair
rebutted the speculation
early this year by reassuring that the 2021 Bronco would be unique from the Everest although share its body on frame construction while adding more off-road capability. He also confirmed it would be similar in size to the Ford Ranger being sold overseas and would "live up to [its] heritage" of the original as a "capable and confident all-rounder."
With that, it should come as no surprise that Ford would be using a Ford Everest donor vehicle to conduct early testing. The good news is with modifications to the T6 architecture and utilizing a body-on-frame construction, Ford could more easily and cost-effectively put a whole new body on top of a shortened T6 platform.
Last edited: