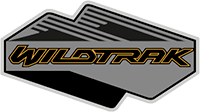 Well-Known Member
I wing'd it for 3 weeks without installing the front license plate holder which could not have been preplanned to be in a worse location. My dealer was kind enough not to install it and save me the cosmetic scar. I seriously thought about never installing it and asking for forgiveness and simply paying the fines for not having a front plate. There are lots of drivers in town from out of town so its possible I could have gone more than a year without detection. But alas, after three weeks driving to work past our local cop shop, prudence got the better of me.
1) I repurposed the factory holder
2) loosened the front plastic cowel (just the two front fasteners)
3) bought a license plate screw kit with washers, longer bolts (the kit uses a hex key)
4) a sharp blade to manually trim the bracket
5) a couple test "try-ons" and some more cuts, two washer each side and ta da!
Cost me $3.99 CAD and about 30 mins, 3/4 of a beer.I know its not the idea spot for off roading but for now, it will do.
Now I wait for the aftermarket to design a killer front bumper with winch that allows me to keep the sensor and the front plate might go MIA again.