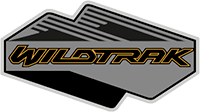 Well-Known Member
At around 300 miles in, my Bronco has developed a pretty gnarly rattle from the tailgate.

I will try to get a recording, but it is very loud and easily reproducible by driving basically any distance.

I had someone ride in the cargo area and they said it's coming from within the tailgate itself, like metal pinging against metal. Not near hinges, latches, or where the tailgate interacts with the hard top window seal. I popped the accessory ready cover off on the inside of the tailgate and there are only some small holes into the interior of the tailgate, so no way to reach your hand in there or anything and it's unclear how it could be disassembled any further, given it's metal sandwiched together.

Ford dealership service departments around here aren't rated well at all, and since they likely haven't troubleshot many/any Broncos yet, I'm thinking about waiting and continuing to see if I can remediate before asking them to deal with it. Not sure how long I can go though, because it's VERY loud!

Anyone with service manuals able to provide any insight? Is there better access from behind the spare tire? Not sure I would feel comfortable doing much more myself, but if there's a quick and easy way in I may give it a shot..:
Hey, try using compressed air a flex magnet. Also, tape up some tubing to your shop vac and go fishing. Goodluck.....