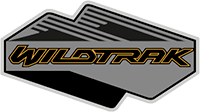 Administrator
Staff member
First Name

Doug
Joined

Jan 26, 2015
Messages
Reaction score

4,578
Vehicle(s)

Ford
In an interview with Yahoo Finance this morning, Dave Pericak confirms that the 2021 Bronco will feature a
GOAT mode
.
If you're not familiar, back in March, Ford
trademarked the term "G.O.A.T. Modes"
which is described as a "Drive systems comprised of automatic controls for vehicle chassis and powertrain controllers, integrated as an integral part of a passenger vehicle."
The Ford patent describes G.O.A.T. mode as a complex mating of hardware and software that essentially links the Bronco's suspension system to a monitoring setup tracking traffic, weather, terrain, and even what kind of music you're listening to to determine the car's optimal ride height and suspension behavior. It works both on the fly, automatically, and at the behest of the driver, via several apparently driver-selectable modes.
Whatever it is ultimately called, it sounds as though the system will be on almost all the time and capable of changing the Bronco's right height depending on what kind of surface it's driving on, suggesting that whether you're on normal roads or sand dunes, the system will be finding ways to optimize ride height and suspension characteristics. The patent also mentions off-road specific features, such as lowering only the nose when climbing a steep grade to give the driver a slightly better view forward, rather than staring at a windshield full of sky.