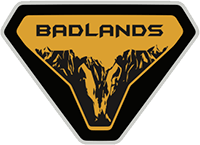 Member
I just picked up my Badlands 4-Door, Manual, Area 51 Aug. 11. Planning a Road Trip from Los Angeles to Red Rocks Amphitheater in Denver and back. We have our Moab Off-Roadeo Experience booked for 9/22. We've never been to Moab or the surrounding areas. We are definitely open to suggestions as to where to go and what to see....also looking for campground recommendations. Open to do some exploring with other Broncos. Haven't done any mods or placed any accessories as of yet. But, just picked up a Yeti 65 Cooler and it fits perfectly in the back sitting sideways. Did order the folding table for the tailgate, rubber floor mats all around, and a sunshade. Just realized that we'll be a group of 4 and there are no rear cupholders. Anyone find a fix for that yet?
In any case, lots of awesome photos of the Badlands in beautiful scenery coming up in a few weeks.
Also, I drive the Los Angeles roads and freeways....all the chatter that I've seen regarding the stereo and outside noise with the soft top....doesn't seem to be a factor for me. The stereo sounds great...and the outside noise....well, I love the windows down and the feeling the wind. If I wanted a soundproof car, I'd have chosen something else entirely. My first car ever was a '78 Bronco Ranger XLT and that top was never on.
Loving this vehicle so far!
Last edited: