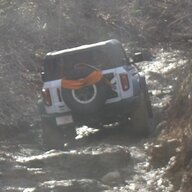 Well-Known Member
Base Sponsor (Level 1)
Continued from thread:
Ford Considering Shipping Vehicles Missing Chips for Dealerships to Finish (Are Broncos Affected??)
We signed up for this program. Our FSE said the chips are for different modules. Dealers would be shipped the modules when they are built and we install and program like any other module replacement. This is not a matter of getting the Weller out with a magnifying glass and trying to stick logic chips on a board. These are completed parts that weren't installed, no big deal. The issue is bailment and if our regular insurance policy covers these or if they are asking us to buy additional coverage. My rep said he believes our current policy is adequate. Also, we aren't talking about tons of vehicles, maybe just one or two lines for now.
I brought the point up on our internal Ford msg. boards at the beginning of May. We have tens of thousands of vehicles (mostly sold) sitting around "lot rotting" waiting for a module to be installed, most run but are missing a module. How are they going to work 35,000 back into the logistic system, who is going to install the modules, how long is it going to take? My point is that they can sit on our lot, they ship us the part(s) to install and we can immediately deliver it to the customer. One of the concerns was if they did this, we don't want it on our floor plan since it's not sellable. This would save Ford millions in additional transport costs, "lot rot", storage costs and allow us to complete transactions faster once parts are in.
Addendum:
We can't show, sell, drive, nothing. In normal times once they hit the transport they are on our books/floorplan. Ford still owns these until we complete the installation, programming and they verify all is GTG, then they will release the hold. Supposedly they are going to give us some $$ for upkeep while they're here.
If you don't know, "lot rot" is a huge issue for dealers. Once a vehicle arrives they are supposed to be started and moved on a regular basis to keep the rotors from rust pitting, keeping the battery charged and help prevent tires from flat spotting. None of the above mentioned problems are covered by Ford while it's here and 100% on the dealer. Had a guy come in with a Mustang a couple months ago, just bought at a dealer around the Indianapolis area, with a complaint of tire shake at highway speeds. We looked at the build and sale dates and could see it sat for a long time so we put the wheels on the Road Force and sure enough, flat spot. Not covered by warranty even though it was now sold and had a warranty start date. Told him he needed to talk to his selling dealer, they brushed him off and said we should've run it warranty. Had to give him a copy of the Warranty & Policy manual to take back to them.
My biggest concern is the ones that are sitting already are going to have rodent damage, converter thievery, rusty rotors and flat spotted tires when they arrive. Who's going to foot that bill??
Q&A:
@flip

question: does Ford control which truck the modules go to, or can you prioritize? Let's say a customer really wants a particular F150 missing a module going to a different one that no one wants yet on your lot: can you then redirect to be able to complete the sale?
We have no say what they send and no idea what particular module(s) they're missing. Supposedly the first vehicles they are going to send under this program are Rangers then possibly one or two other lines. We've gotten some new units in over the past couple weeks but they were all sold fleet or retail. Vehicle Visibility shows units on wheels waiting but really nothing else of use.
So how long do you estimate before lot rot becomes an issue? Weeks? Months? Just asking for us that have Bronco's in production purgatory for the last month.
Depends. There's time sitting on the yard at the factory then the time after it hits our lot. Unless it's moved around or test driven the only drive it may have is at predelivery prior to a sale. Usually we see flat spots after a couple months and depending on how wet the climate, rotors start surface rusting immediately. For example, a former employee bought a 2020 Edge from us in May of this year that was built in December 2020. All 4 rotors were pitted to the point machining was going to take them halfway to the minimum spec. He wasn't OK with this so we ended up putting 4 new rotors on at our expense since it was "lot rot" and our responsibility.
Last edited by a moderator: