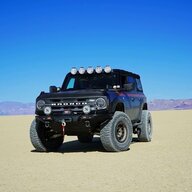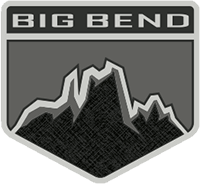 Well-Known Member
First Name

Caleb
Joined

Nov 14, 2021
Threads
Messages
Reaction score

278
Location
Vehicle(s)

2021 Bronco/1996 Jeep XJ/1957 FC-150
Your Bronco Model

Big Bend
Like a lot of people, I was intrigued... DV8 offering an alternative to a lift that allows my stock Sasquatch to fit 37's! Can this be true? If so, this would be ideal for me as someone who wants to stuff 37's with minimal lift and max articulation. In a nutshell, my goal is to fit 37's on stock Sasquatch without rubbing at max articulation and then purchase an extended travel shock and only crank up the lift 1-2 inches. The lift would purely be for ground clearance on top of the clearance from 37's and the extended travel would give me max articulation... So ideally, I can run 37's and have an extra 2-3 inches of ground clearance without messing up my angles that bad (I do have broncbuster parts and RCV's coming). Also, I would hopefully add to my travel giving me a goal of 10-12 inches of travel up front.. I digress.
So far I have done one side of the rear with the DV8 inner fender liners... It was an easy yet somewhat slow process of getting it to line up. I also sprayed on some rubberized coating to minimize rock "pinging" on the aluminum fender liners. After installing one side I took measurements of DV8 liners vs stock. I am pleased to announce that the rears do in fact open up the fender wells quite a bit (see below measurements). I would also add that even though some of the measurements seem like only a slight bit difference, my buddy has 37's on stock liners and Sasquatch and he rubs in the areas where the difference is much bigger and not at all where the difference is minimal. Seems like DV8 did their research... Also, the fender well as a whole is much more opened up and free of intrusions giving the tire much more room to articulate up into the well without hitting anything.
Cons: I do lament the price, I also dont like how only 3 bolts are holding the liner into place and that the fit and finish into the well is somewhat lacking.. It is covered up by the fender flares but if you look underneath you will see gaps between the liner and the fender.
Next up I am going to install the front liners and do the same measurements... Then I am going to put on the 37's and go out an articulate at my local offroad park to test. I am honestly expecting to rub my front body mount area but have a JKS Max Tire clearance kit just in case. Stay Tuned!