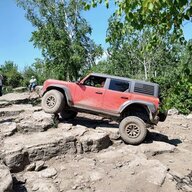 Well-Known Member
So, I have a little bit of fender flair rash that would not have happened with some poke on my tires. I see that +18 is a popular choice for back spacing instead of the factory +34. That is moving the rim out .629" . 0 offset would be 1.338" out farther.
How far out can you go? With Stock tires? With 38/13.50 tires? I really plan to run stock tires till near the end of their life then go to the 38/13.50. I have looked same at new wheels, but really like the looks of the factory bead locks. Smallest wheel spacers I have seen are 1.25"
Looking for any information that can help. I do not want any rub at all, I use full articulation off road.