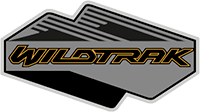 Well-Known Member
As with most on this forum, I began my journey in July of 2020. I followed all the deadlines and held out (99d my order) for the black roof that was promised for the Wildtrak. When Ford finally announced no black roofs my dealership prioritized my order and I was picked up at the end of 2022. The only consolation prize was getting the HOSS 3.0 that I wouldn't have gotten had I been a 2021/early 2022. Several times in this process I almost gave up but this forum (visited almost daily) kept me interested. No words can describe the excitement when you see the bronco you build in real life. All the hate and irritation washes away when you drive away from the dealership. Now for a little productive review.
Graphics package really helps bring all the black accents together without the black roof.
I have very light wind noise above 65 mph. With the radio at 7 (low) you no longer hear any wind noise. If you are driving below 65 I don't believe it is any louder than my 2012 F150.
The rear sub rattles. Like most reviews the sound system in the bronco is less than desired.
A higher grab handle for the front would have been preferred. The one on the dash really doesn't help much. (plenty of aftermarket out there)
Pictures really don't do the vehicle justice on how big it is. I'm a tall guy 6'3" and still its a big step up.
There is plenty of room inside the cabin and the seats are very comfortable.
HOSS 3.0- I've driven a Wildtrak with the standard HOSS and there really isn't a comparison. The 3.0 soaks up bumps in the road like they are nothing. Larger bumps and off-road terrain also feel smooth (not quite as good as my 2019 Raptor but damn close). If you aren't rock crawling I would spend the little extra and move up to the Wildtrak.
MPGs are surprisingly better than expected. I'm getting 18.5 consistently on 87 octane mix of city/hwy. (500 miles of driving so far).
Last edited by a moderator: