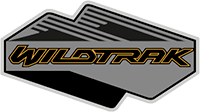 Well-Known Member
Starting this to keep track of my thoughts, projects and adventures.
A little history, I got into wheeling back in 2012 with my Tacoma. Eventually ended up with 35's on it (tubbed the firewall to accomplish that), double locked, with ADS shocks all around. It's taken me everywhere, from Moab, to VT/NH/MA, to NM and a bunch of places in between. I love this truck and have spent many hours modifying it (custom fabrication and all) to suit all the needs I had. The one thing I could not modify it for is comfort for our family which has grown.
This led me to search for a new DD that can also double as the family roadtrip and camp vehicle. I also wanted it to be something my wife feels comfortable driving/using so that we can take both rigs out on local camp trips and she can drive home while my son and I camp. Her requests when looking for this vehicle is that it can't be what my Tacoma is, another project. So I set out to find a vehicle that was built comparable to my Tacoma that will be brand new or close to brand new, capable and have a warranty. It came down to a 5th gen 4runner and the Bronco. The things that put the Bronco on top was being able to get it with 35's, F/R lockers, and aggressive suspension to make going fast offroad more comfortable, while still having a factory warranty. For the 4runner even if I got the top of the line TRD offroad I would be getting 33's and a rear locker only. So I would need to do the cab mount relocate for 35's, regear and lock the front, etc. AKA work I do not have the time to or want to do.
Enter my Wildtrak. Basically a '23 Wildtrak with added skids, modular front bumper, dual tops, tow, and roof rack. The goal was to spec it as best as I possibly could so that I don't need to add anything, or at least get me by until I can buy the preferred items. Things I knew I would need off the jump would be sliders and a winch.
Here is how it looked when it arrived at the dealer:
Untitled by
Michael Halat
, on Flickr
And home next to the real beater rig.
Untitled by
Michael Halat
, on Flickr