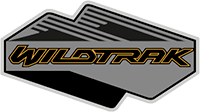 Well-Known Member
I'm having a hard time with those steelies. You are right on your 1st statement, they look like spares. If they had these like they had on the OG Broncos as an option, then I'd be on board.
Nice! This is why I've been saying "give me the hubcaps". If there are some ford hubcaps that fit the Bronco steel wheels, then this setup is easy. Having the wheels painted white or body color would be an inexpensive "fix" if you don't like the black.
That's a great looking rig!