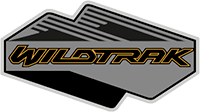 Well-Known Member
Hot take:

On a classic vehicle steel wheels look the part but on a modern vehicle they just look like spare tires...
Spares rock!
How We'd Spec It: A $65,000 Land Rover Defender with Steel Wheels
*That's all nifty, but we can't get over one thing: that the Defender still offers classic-looking steel wheels. We wouldn't buy a 4x4 like the Defender without these, simply because they are rad as hell."
https://www.caranddriver.com/news/amp28980765/2020-land-rover-defender-110-build-spec-price/