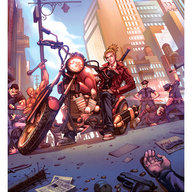 First Name

Mike
Joined

Jan 11, 2020
Messages
Reaction score

837
Location
Vehicle(s)

'19 Ram Rebel, '07 A4 Quattro
Oldie but goodie from the Mustang forum:
According to my former Engineering professor, alot! I grabbed my stock parts out of the basement and headed to his house for some beers and BBQ (rained out unfortunately so we got some pizza) and Had a look at some things in the garage.
First is the much maligned intercooler. The Stock unit in his exact words "Cheap garbage but at least it's Cheap!"
My phone did not capture the IC well as the light was dim but I did mangage to find some images online that were perfect.
His notes.
"Far too small and light for a gasoline turbo application, might be ok on a Small Diesel, No where near enough thermal mass, Tube and fin is terrible for Air to Air applications, but it's cheaper to manufacture."
So we pulled the end tanks off, Not hard by the way and he mused, "I'll give those 5 years before they leak."
"Terrible flow, the Air has to make a sharp 90 degree turn here, creating a high pressure area blocking flow, the volume and design of the endtanks do not provide adequate flow to the top, the botom 3rd is doing the most work here. Plastic is a good insulator so will not provide any real thermal mass either."
"Nearly half of the area is blocked, fin density and surface area are minuscule, the only advantage is strength for weight here, It's like they used a design for a water to air heat exchanger and built it out of aluminum. This is a major restriction, and one that does not provide an airspeed increase like a venturi."
We talked about the detrimental effects on an engine and he said, "if you were sitting in traffic for like 10 minutes on a warm day, the road opened up and you were to give it gas, this would actually heat up your air charge and could cause DET if you had low quality fuel, I don't think you could pull timing fast enough".
I told him about the blown motors on this forum and he asked me how many had stock intercoolers. As far as I'm aware no engines have blown with upgraded ones! His exact words "I would expect a cooler of this size and design to support 250 hp at relatively low boost. At 310 and 18 psi on a small turbine like this, this is a danger to the engine".
"The Primary concern developing this part was cost, nothing else, not even performance. The thing that really jumps are the end tanks, unless they are used in something else that is highly space limited, they could have been designed much better at no additional cost or complexity to manufacture. I bet Ford produces these at around $10-12 a unit, they could have made it much better at 0 cost unless they had tons of these cores and end tanks lying around," (as far as I can tell this intercooler is Mustang specific) and the could have nearly doubled the efficiency by spending 25 cents a car more, but that is a bean counter issue, well over $1million in profits over the lifespan of the car. The only way this passed hot weather certification was by avoiding boost.
I'll post the pics later, but just a heads up, and if the hyperlink doesn't work:
https://www.mustang6g.com/forums/threads/how-bad-did-ford-sandbag-the-ecoboost.56367/
Last edited: