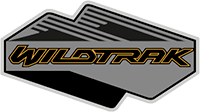 Active Member
Joined

May 27, 2020
Messages
Reaction score

138
Location
Vehicle(s)

Current - F-150; Previous - CJ-5, M1A1 Abrams
Family Silhouette Pic! The one that's supposed to be posted on July 6 per the
leaked social media teaser schedule
.
Enhanced versions:
Another version by
@BroncoJeremie
Analysis of size by @North7 (
original post
)
Here is a ROUGH estimate for the 2 door Bronco vs Jeep dimensions and the percentage difference between them.
Using
@The Frisco Kid
images I did a scale comparison between the 2 door, it is not completely accurate as we can see the Silhouette image of the 2 door Bronco is at a slight angle.
Next for scale I used lines for wheelbase, making the the Bronco 1" - 2" longer at the center hubs. This is based on based on
@FirstOnRaceDay
post for the size: "WB an L - 2 Door bronco will be slightly larger than the JL. (97/ 167) and 4 Door slightly shorter than the JLU (118/189)."
Next I dropped comparison lines on for the door opening, front and rear body lines, rear tub section and front hood section:
Bronco Door Opening -
7%
6% wider
Bronco Rear Tub -
20%
14% longer
Bronco Hood - 10% longer
Bronco Body Length (not including bumpers) - 10% longer
(updated 7-3-2020, 1:57pm - There are errors in the percentage differences due to the resizing of the images and the angles the Bronco and Jeep are sitting at. )
Last edited by a moderator: