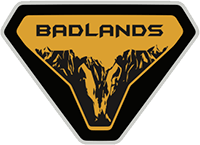 Well-Known Member
From published data:
Heaviest curb weight = 5129 (2-Doors) or 5320 lbs (4-Doors).
Gross Combined Weight Rating (GCWR) = 8840 lbs. (for both 2 & 4 Doors)
Payload Rating = 1170 or 1370 lbs. (for 2-Doors or 4-Doors, respectively)

I don't remember whether the GVWR (Gross Vehicle Weight Rating) has been published or not. Even if it has not, we can still draw a couple of conclusions from the published data we currently have.

1. For non-towing, the payload is 1170 (2-Doors) or 1370 lbs (4-Doors). Because Ford published these numbers.

2. For towing, the max tow rating is 3500 lbs. Tongue weight would be 350 lbs. (typically 10% of tow weight).
- On 2-Doors trims, you can tow 3500 lbs. and carry a payload of 820 lbs. (1170 - 350).
- On 4-Doors trims, you can tow 3500 lbs. and carry a payload of 1020 lbs. (1370 - 350).
Referring to item # 2. The curb weight from base to fully optioned is a 800 lb difference. If the gvwr ends up being equal that means on the 2 door for a fully optioned vehicle payload would be in the 400 range and the 600 range for a 4 door. This leads me to believe gvwr will be adjusted, possibly for the 2.7. If not, those with badlands and fe will have the lowest payload. Going with posted data.