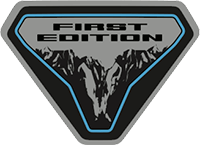 Well-Known Member
First Name

Robert
Joined

Jul 14, 2020
Messages
Reaction score

1,140
Location
Vehicle(s)

Ford F150 FX4, BMW M550i, BMW Z4, Mini Cooper, Bronco First Edition Reservation
Bronco

First Edition
EDIT AS OF 11/16/2020!



Read this for SUMMARY OF THREADS
ANNOUNCEMENT - NEW OFFER FROM MADISON FORD, VA

ALSO - Diehl's Ford in Grantsville, MD

ALSO - UPDATED COST ANALYSIS!

READ ON!

We are pleased to announce a NEW OFFER!!!!!
Madison Ford in Virginia
Madison Ford's deal:
On any pre-order converted to our dealership for '21 pre-orders (before cut off for '22) will be given the following pricing. 25% of the holdback UNDER invoice. They will also be offering 15% off of retail pricing on any Bronco accessory that will be available through our parts department. They are also working with the finance department to see what sort of offers they can offer on extended service programs through Ford Protect (We post if it becomes available!). The documentation Fee is $799 by law.
Contact
:
Jonathan Bradley | GSM
Madison Ford
www.madisonfordsales.com
2895 South Seminole Trail
Madison VA, 22727
O: 540-948-6806 | F: 540-948-6516
ALSO - A member of our group has been in contact with Diehl's Ford in Grantsville, MD and has gotten this offer:
Diehl's Ford in Grantsville MD is also at invoice if you contact them and mention that you saw it here. Eric Diehl:
[email protected]
Several other members have contacted them and they have matched the offer. Although this is not a formal offer to the group, they appear to be honoring 6G members' emails and extending the same offer.
For the cost analysis, got to:
https://www.bronco6g.com/forum/thre...or-maybe-va-pa-de-md.3549/page-71#post-321601
___________________
Fellow Future Bronco Owners,
To steal a page from the Texas Volume Buyers' Group, we have banned together to see if we can negotiate once and get the best deal once. Our focus on Maryland, Virginia, Pennsylvania, Delaware, and whoever else would like to join. We have had people join from New York, New Jersey, the Carolinas, and West Virginia.
A member of the group (
@wolfpackinva
) has negotiated a deal with three Richmond Virginia Ford Dealerships Richmond Ford with three locations in the Richmond area (
https://www.richmondford.com/
). Similar to another offer we have, the savings are provided differently.
This offer likely makes most sense if you live in the Richmond, VA area.
Key elements of the offer:
X-Plan Pricing (THIS IS NOW NOT VERIFIED DUE TO FORD"S ANNOUNCEMENT ON NO BRONCO X-PLAN!)
$1600 Savings through a Service Coupon Book
100K Mile Powertrain Warranty Through their three locations (Requires Service at Richmond Ford Locations)
Requires a $500 Refundable Deposit with Dealership
Please contact:
Kayla Hylton
Business Development Representative
Richmond Ford West
10751 W Broad St
Glen Allen, VA 23060
W: (804) 474-0571 Ext: 564
[email protected]
WE WERE CONTACTED BY LEONARDTOWN FORD (
@NayNay
) WITH AN UPDATE TO THEIR OFFER:
Leonardtown Ford Updates Its offer to Bronco6G Community. This is a response to Ford's statement that they will not allow X-Plan on Broncos. Highlights:
Buyers may choose between 3% OFF MSRP -OR- If you have a valid X-Plan Pin and are a Bronco 6G member 1% OVER INVOICE. Key points of the offer:
At the time of the deal, you must show your X-Plan Pin
The X-Plan Pin will not be used. You can cancel it afterwards and use it on another vehicle if you so choose.
Leonardtown Ford will share the invoice with you.
The destination charge is part of your invoice. It will not be added back in later to increase prices.
Dealer Documentation Fees will be fixed at $499.
You are NOT required to finance with AND/OR buy extras at Leonardtown Ford, but you can if you wish.
This applies to all models of the Bronco EXCEPT the First Edition
ALSO:
Leonardtown Ford will give 5% and up to 15% off ACCESSORIES MSRP (Item dependent. This offer is just for Accessories purchasable at the Dealership and is a separate offer/transaction from the offer for the Bronco itself ) on accessories for the Bronco or any other Ford vehicle, that is not part of the Bronco build/Factory invoice REGARDLESS OF WHERE YOU BUY YOUR BRONCO.
Military or former military/Veterans will get 15% off ALL FORD ACCESSORIES regardless of the item.
Any ACCESSORIES purchased at Leonardtown Ford requiring installation will get 20% off installation costs through their aftermarket department regardless of where the Bronco, or other Ford vehicle, was purchased. EXAMPLE: You want remote start installed after receiving your new Bronco. Leonardtown Ford sells you the Remote Start at 10% off MSRP. In addition, installation costs will be at a 20% discount off the installation cost of that remote start.
This is not applicable for service or repairs. Example: If your 2010 Ford F-150 needs a new engine, that is not an "Accessory" and is excluded from the offer.
LEONARDTOWN Ford confirms only a $100 deposit required for the order. If you have already paid the $100 at the time of reservation, you are all set!
Please reach out to
@NayNay
for specifics. I am doing our best to translate this additional offer and Leonardtown Ford will correct any error!
We have reached out to multiple Dealers with the request. As of today, we have still only have offers from Stephens Auto Center, Grainger Ford, and Leonardtown Ford. We will update you if we expand the number of dealers.
I have calculated the current best estimate on potential savings based on all offers we have to date. Please go to this link:
https://www.bronco6g.com/forum/thre...or-maybe-va-pa-de-md.3549/page-46#post-200198
The promised offer is published by Stephens Auto Center (@StephensAutoCenter) on their website! Please follow the link to the see the offer:
https://www.stephensauto.com/2021-bronco/
https://www.bronco6g.com/forum/threads/1000-below-invoice-300-x-plan.4404/
Thanks to the members of this group who approached them on their vehicles and convinced them to take a look a 6G!
And of course, thank you @StephensAutoCenter for following through, doing what you said, and making a pretty straight forward offer to the entire Bronco Community! Please read the offer! The first analysis is that it is very much aligned with the @Granger Ford offer. THANK YOU!!!!
We have heard from Leonardtown Ford (@NayNay ). Their offer is 3% under MSRP regardless of trim level and add-ons. They will also honor all planned pricing that Ford is allowing. Link to their offer:
https://www.bronco6g.com/forum/thre...or-maybe-va-pa-de-md.3549/page-36#post-156110
Brewster Ford - The offer is from Brewster Ford for Broncos at Invoice.
The details of the deal as I understand them are as follows:
All Ford Broncos including First Editions will be sold at Invoice
There will be an additional deposit as well as costs for the license and registration(for transfer plates)
A Signed buyers order(agreement on price), insurance info, and any trade information will be required at time of deposit.
If you are going to finance or lease (not required), a Credit application will be collected when the vehicles start to arrive.
$75 doc fee
$12.50 tire fee (NY State Requirement)
Lifetime powertrain warranty has 100-mile tie back (if within 100 miles of the dealership, must use them for service. Outside 100 miles, you must keep detailed records).Powertrain Warranty link.
The agreement will be in writing and signed by the General Sales Manager
For more information, go to:
https://www.bronco6g.com/forum/thre...or-maybe-va-pa-de-md.3549/page-64#post-266183
This is not be managed by this group. We do not have a lot of details. Please reach out to
@EvlNvrDys
for more information.
We also want to continue to thank @Granger Ford for their assistance with this group. They have nothing to gain and everything to lose by helping us, yet they do! First-rate dealer! We don't know if Ford recognizes dealers for being helpful to all Ford customers, but they should!

We continue to work on volume pricing, so patience please before you jump dealers since you only get to do it once (to the best of our knowledge) HOLD ON TO YOUR STEERING WHEELS...THIS IS REAL!
Our goal is to do this with courtesy and respect for the Dealers, us, and people who are also running similar groups. We want everyone to be happy with their Bronco and the purchase process. We definitely don't want to interfere with a relationship you may already have.
If you have serious interest, please take our quick survey at:
https://www.surveymonkey.com/r/C599CQ5
The results of the survey (as of 8/25/2020) can be found at:
https://www.bronco6g.com/forum/thre...or-maybe-va-pa-de-md.3549/page-31#post-147659
And let
@perfectburrito
know your information to be added to our data tracker.
We have been in contact with the group in Texas as well as a new group that just started for farther up the East Coast and New England.
As of today we are
39 confirmed
and have a total of 153
interested
! To put this into dollars, this is OVER $5.5M of buying power potential. We also have three dealers following (
@NayNay
; @tpsnyder88 ;
@Granger Ford
;
@StephensAutoCenter
) . I am sure they will answer any "Dealer" questions. To be clear, we have not chosen or are recommending any of these dealers. They have just asked to join and follow.
We have also had several members talk personally to their dealers and discuss their own Bronco. IF you have any information you would like to share or the dealer seemed like they might be interested in a Fleet Buy arrangement, please reach out to me and
@perfectburrito
.
Big shout out to
@perfectburrito
who is maintaining the master list.
EDITED 11/16/2020
Last edited: