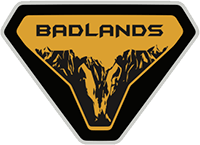 Well-Known Member
** Check all posts to see how the Bronco progresses **
** Also follow this thread for updates **​
I wanted to start a thread for my Bronco aka "MOON" so I can share with friends and help others in the Bronco 6G community.
I'm a day one reservation holder. Built on March 11th. I finally got my 2022 4 door Cactus Grey Badlands with Sasquatch and luxury package on March 30th.
It's been a fun week. I have already done several projects with the help of a good friend.
Like many of you the first thing I did was to peel the sticker badges off. I relocated them to the tailgate and behind the gas door. I also removed the chrome Bronco and swapped it for a black one.
Redline tuning hood struts and a basic LED light bar under the hood that comes on automatically. I highly recommend both of these upgrades as they are inexpensive, easy to do and super functional.
Baja Designs Squadron Sport ditch lights. I am in love with those things!
JCR molle table on the tailgate. It went together fine until the last step of inserting the top of the table. That took a little extra work to make it fit. But it's in there solid and no rattles at all.
A custom rear lighting project I had planned out. On the glass hatch I have 2 Baja Designs rock lights. One red, one white. Then on the inside I have a red led light strip for cargo lighting or when camping in the Bronco. Each of those lights are wired into their own switch on a panel I added that also has 2 USB ports. They are also wired into quick connect cables so when I remove the rear section of the roof I can simply unplug everything.
Mounted fire extinguisher. I also added a Baofeng base charging unit there and can plug in by USB when needed to charge radios.
Not too bad for the first week. I will update this thread over time as I do other projects.
Last edited: