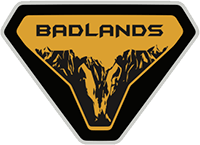 Well-Known Member
First Name

Mark
Joined

Jul 16, 2020
Threads
Messages
Reaction score

325
Location
Vehicle(s)

20 Shelby GT350, 22 Bronco BL, 29 Ford Roadster
Your Bronco Model

Badlands
For what it's worth, I spent a lot of time trying to understand why my Bronco had a lot of wind noise and my friends was silent as a mouse. I did all the mods (pool noodles, weather-stripping, foam, padding between top and vehicle, etc.). That all helped a lot - but my friends was still quieter and had none of that stuff.

What ultimately was the fix for me was reseating the window 'back' towards the rear of the vehicle. If you look at the driver/passenger window, notice how it overlaps with the gasket near the B pillar. Obviously that glass isn't supposed to 'touch' the B pillar, but it should be close(ish).

The gap between the window edge and pillar should be about a tenth of an inch. Mine was half an inch. This was letting a little tiny bit of wind in around the edge that made the cabin a lot more noisy than it needed to be.

Pro Tip: Put your finger between the edge of the window and the pillar. If your finger fits on the gasket (between the window and pillar) then your gap is too large.

I had to fight my dealer on this pretty hard because they told me it was impossible to move it 'back' more - until I showed them pictures of mine versus my friends with measuring tape on it.

Hope this helps!

PS: I love that people that say "stop complaining about wind noise! Why did you even buy a bronco?!" - to you I say, I bought a Bronco so that I could do things; off road, overland, camp, have fun... but also to have a conversation at 60mph. I doubt you are experiencing the same 'wind noise' other people are.
awesome thanks I will look at mine in the morning to see what mine looks like.... it's dark out
and cold