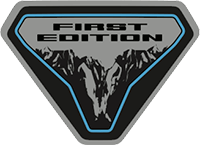 Active Member
Had the privilege of doing my ride along with Brad Lovell this morning in a Rapid Red FE. Given his 4+ year history with the Bronco team during development it was really special to hear his thoughts about the vehicle during our ride. No videos or photos with this one, just the facts!
Interior - I have a Lightning Blue FE on order with the black interior. But after seeing the Navy Pier in person...I'd be totally fine with it and kind of like it and might change my order so that I can get the car sooner. It is much more subtle and darker in person. The gray is not as light as it appears in most photos and the navy is fairly muted (more of a gray blue), so there really isn't a lot of contrast between the two colors - for the better. In a lot of the photos that have been posted by Bronco Nation and others the roof is off, so with direct sunlight perhaps there is more contrast? Our FE had the roof on but even with the doors open and the sun shining, the coloring was muted and darker than one would think. Hopefully that coloring makes it over to production.
Exterior color - I'm not going to get it but I must say the Rapid Red was pretty nice! They had a few Area 51 Broncos out and it's still a chameleon color - one minute I love it, the next I'm not sure. No Cactus Gray, which I really wanted to see in person. One of the reps said that CG did in fact change its color formulation since the launch last year, which I hadn't heard before or maybe just missed. The ABR car on display was Velocity Blue so if I squinted enough I could imagine a deeper version of that for the Lightning Blue I'm getting...I think. (The painted gas cans really didn't help other than to show which colors will be dust magnets.)
Highway ride - much smoother and quieter than I thought it would be. The MIC roof was making noise. But conversation was easy and nothing about the ride felt like it would be exhausting (ie, not a Wrangler.) I drove my Grand Cherokee down for the trip and the tire noise on that felt louder to my ears than in the Bronco.
Off road - this is where the vehicle shines. As Brad explained, it was designed to make it easy for the every day driver to use (me) while still providing control for the professionals and enthusiasts. And Brad knows how to drive this thing and pushed it HARD. He showed off every mode, every driving feature. Going 40-60 on the flat trail was super smooth. Climbs over rocks easily, swims through sand. A comfortable off-road drive but with amazing capability. (Helps to have someone like Brad driving, obviously!) But a 10 out of 10 off-road.
The trail turn assist has to be the coolest feature - literally spinning in circles without moving your positioning. So much fun.
Roof noise and rattling - Brad felt pretty confident that the noise was due to the vehicle being pre-production and that those issues would be hammered out. Reading through the lines...I think all the supplier issues with roofs and whatnot are part of the problem. Hopefully that gets worked out in time. If not I can see a lot of roofs getting exchanged over the next year.
Technology - the big touchscreen was very responsive. All the camera angles available are awesome, the front camera really helps when going up hills and over terrain where it's hard to see. The hood of the roof does impede visibility a bit, but YMMV based on your height (I'm 5'10".)
Odds & ends - window controls on the center consoles will take some getting used to, but with the removable doors I understand the reasoning. Seats felt comfortable, leg room was solid. Didn't turn on the sound system. In my excitement I forgot to check out the trunk storage, size, utility...oh well. I didn't really pay attention to the cup holders.
"Everyday driving" - as this vehicle will be 98% on road for me a big question was how I thought it would handle that use case - daily driving, getting in/out of a Sasquatched vehicle with the family, etc. At 5' 10' I didn't have much trouble getting in and out, nor did my 12 year old son. With ski boots on in the winter...I could see the passengers having to be a little careful, you can't just step in. Not sure if my wife will enjoy driving it all the time - I can see the sight line over the hood possibly being an issue. But overall it felt very "easy" - comfortable, smooth ride, not too truck-like.
After the ride my son said we are definitely getting the Bronco, so there's that.
I know it's easy to get caught up in the moment on a ride like this, so I'll let this digest a bit. But I'm definitely impressed with the Bronco! As an off-roader it's truly amazing. As a daily driver it seems like it would be pretty fun also. Hope this helps!