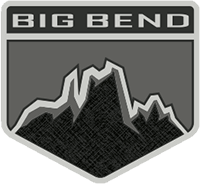 Well-Known Member
First Name

Greg
Joined

May 29, 2019
Messages
Reaction score

4,649
Location
Vehicle(s)

'84 Bronco, '93 Bronco, '94 Bronco, 2012 Mustang
1. Does the Warn Winch interfere with the Trail Cam?

The trail cam is not yet final production, and this vehicle does not have a trail cam. The trail cam is still being fine-tuned, and we will have details on this once it is done.

This answer right here is about the only ANSWER that seems to be given. At least he admits it's still a work in progress.

4. Will there be a white top option?

There will be a color and material walk-through later this month.

OK, I get it. They don't want to spoil their color event.

8. Will locking diffs be an à la carte option or only available through the Sasquatch package?

Rear locking diff is standard on Black Diamond. Front and rear locking diff is standard on Badlands.

Acceptable answers would be: Yes available on X,Y & Z trims. Or, No they must be included in a trim. Don't tell us what they are standard on, the question asks if it's an option!

10. Is the 2-door Trail Rig package at SuperCel West installed as a complete Ford package for purchase, or are these individual accessories that can be purchased through Ford Accessories?

These are individual accessories that you can purchase from your Ford dealer.

This line right here, plays into Question #10 (below)

13. Are there any packages that would include cooled/ventilated seats?

Heated seats will be available starting on the mid-level equipment packages.

Acceptable answers: Yes, ventilated seats will be available. Or, No, there are no ventilated seats at product launch, maybe in the future.

7. Will 35" tires fit on a Badlands with just the fender flares?

For 35" factory tires on your Bronco, choose the Sasquatch package.

No shit sherlock, we know Squatch has 35's. Question was basically (maybe not worded that way though), Do we need a lift to fit 35's on the Badlands? Or expand upon it, and do we need a lift to go from Base 28's to Base 33's? Though I can't see them having a different suspension height on each individual model.

10. Will more tire sizes be available as options on different trims? There's alot of interest in the forums in lower trims with 33's and giving money to Ford instead of aftermarket.

The only way to up-size your tires on any series is to go with the Sasquatch package.

This right here is a missed opportunity. I for one go back and forth between Base & Big Bend & Black Diamond. Do I want Squatch? if I go higher trim, what tires & wheels are options to keep me in budget. Because right now, if I go Big Bend, I'm going to my local shop to slap some 33" Ridge Grapplers (285/70r17) on her. That's a good $1000 bucks that Ford loses out on!
Thank you for posting all these in one spot (at least your list). I decided to respond to the questions/answers that more or less annoy me with how Ford responds to them.