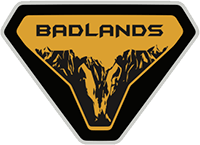 Active Member
I met my first two-door Badlands Sasquatch today - maybe the first in the city.

Anyhoo, the truck had 35" Goodyear Territory MTs on it - standard tires. NOTE: no "wrangler" on the tire - "Goodyear" twice. (Looked great, FYI.)

The owner said the tires, and most likely, the truck, throws rocks like crazy. Driving on gravel roads, the rear fenders were already cut-up on the front from rocks thrown from the front tires. He also said the back tires throw rocks 50 yards and that you don't want to be behind one of these. I imagine the same will happen in winter with the gravel on the roads.

Mudflaps might be a good idea. Seems Ford might have missed this.

Regardless, your call. Just putting it out there.