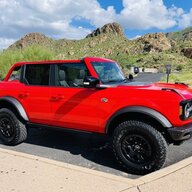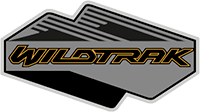 Well-Known Member
First Name

Ruben
Joined

Jul 20, 2020
Threads
Messages
Reaction score

647
Location
Vehicle(s)

2021 Bronco
Bronco

Wildtrak
I know there are a lot of reviews out there but I hear Wildtraks are kinda rare so I'll review mine.
First off let me say I LOVE THIS BRONCO! I feel very lucky and fortunate to have one (especially this build). When I originally reserved the Bronco, I knew I wanted the Wildtrak model since it's labeled as the desert runner and I live in AZ. Just like everyone else, I wanted my Bronco ASAP and hated to hear about all the constraints and delays but that didn't stop me once from changing my order details. And come to find out, I was the first Bronco delivery at the dealership!
FIRST IMPRESSIONS: The Race Red really pops! It makes the Bronco very hard to miss. The stance on this rig is perfect! I haven't done any kind of lift or level kit and don't plan on doing one soon. One thing I wanted installed right away were the rock rails, just for the extra protection, so I had those ordered and put on before I took delivery. The interior was my only hesitant being the Wildtrak only comes in one option and I'm not a big fan of "tan" interior but after seeing it in person, it's not as tan as I thought it was going to be so I'm happy! Same with the dash color, not as tan as I thought it was going to be.
DRIVING IMPRESSIONS: Coming from an F150, I knew to expect more road noise and rough ride experience but in all honesty it's not a rough ride at all! Very smooth, easy handling, I'm shocked! The road noise is ok, the hard top seems to give me a lot of wind noise but my daily commute is mainly highway driving. Oh and this Bronco turns on a dime, also very impressed with that!
Also, SPORT mode and BAJA mode are not the same thing! Sport mode give the Bronco a noticeable power boost but Baja mode really utilizes the high end of the RPMs… I almost thought I had to shift manually in Baja mode but it just climbs the RPMs pretty high before shifting automatically.
TECHNOLOGY IMPRESSIONS: I did opt for the Lux Pkg mainly for the B&O Audio System. I saw a lot of negative thoughts about it which really lowered my expectations but after hearing it myself, I think it's great! Wife thinks so too. In normal city driving, I don't crank it past volume 10. On highway driving I keep it between 12-15 volume. The wireless charger could be better, it doesn't really "charge", it just keeps my phone from losing battery (if that makes sense). The 360 camera system is also very nice and goes great with the 12" display! Love seeing all the different camera angles and the ability to see the 2 front tires in certain drive modes
THE MIC HARD TOP & CONS: I know everyone wants to know about the hard top… it's ok. It does have that "tapping" sound from both driver side and passenger side but more noticeable on the passenger side. The sound deadening headliner seems like a thin layer of carpet material and is already lifting in a couple areas. Can't complain too much since Ford has already emailed me saying it will get replaced in the near future. Hopefully MIC 2.0 will be better. The only con I have about this vehicle is the lack of storage in the cab area. The cargo space is plenty good for what I need so that kinda makes up for it. But I do wish there were more compartments in the cab for storage.
If anyone has any questions please feel free to ask and I'll answer as soon as I can. I'll attach some photos of my build along with the MPG I'm getting after 1000 miles.