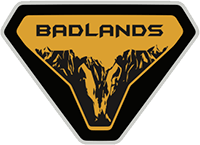 Member
First Name

James
Joined

Sep 17, 2020
Threads
Messages
Reaction score

39
Location
Vehicle(s)

2020 MINI Cooper S 4-door
Bronco

Badlands
Cars I've owned previously:
-Ford Festiva (early 90's model, first car, in bad shape, used up more oil than gas)
-2007 Mazda 3
-2006 Nissan 350z
-2008 BMW 330i
-2013 Subaru Crosstrek
-2015 and 2020 Mini Cooper S Hardtop 4-door
I reserved my 2-door Bronco July 29th, 2020, and took delivery on April 5th, 2022. Made final build change to a 2-door Badlands w/ 10spd auto as only option in Oct 2021, and then got the email with build date set for last week of February 2022. Took about a month from built to delivered.
First Impressions:
This being my first real off-road vehicle, I was somewhat worried about how much different the driving characteristics would be compared to the sedans and hatchbacks I usually owned. Especially during that first climb into the drivers seat. Taking that first test drive made all those concerns go away. Even though it seems like a large vehicle, the on-road driving experience blew away my expectations. If felt comfortable, responsive, nimble, good turning radius, and the 4-cylinder engine has plenty of power when you need it. All the controls are well laid out, easy to use, and the Ford sync system with Apple carplay is awesome. Remote start from the FordPass app is great too since I didn't get the heated seats, I can at least get it warmed up before getting in.
Accessories and upgrades:
I have never done much of my own upgrading or tooling on cars previously, but the Bronco seems to encourage some DIY to customize and make it your own. With the long wait to actually get one, I had plenty of time to watch videos about all the available options to accessorize your rig. Here is what I have done so far:
-Curt Hitch (
https://www.curtmfg.com/part/13493
) to use with OneUp Bike Rack (
https://www.1up-usa.com/product/2in-super-duty-double-bike-rack
).
-Hood deflector (
https://accessories.ford.com/produc...-ii-black-textured-trail-armor-hood-deflector
). My previous experience with the Mini Cooper, which also has a window that's almost vertical, is that they are rock magnets. Anything to help prevent chips and cracks in the windshield is a good idea. I also have my comprehensive insurance deductible set to $0 so in case I do crack a windshield through no fault of my own, I don't have a big out-of-pocket cost to replace it.
-Swing gate folding table (
https://www.fordpartsonsale.com/oem...eujSWdH6Sj_jVFuiUPb5hZPagHIS6DWBoCzJkQAvD_BwE
). There is some drilling involved, with a provided drill bit, and getting the main bolts attached to the swing gate is somewhat tricky, but otherwise it was a straightforward install. Excited to use it on some upcoming camping adventures.
-Dash cam (
https://www.amazon.com/gp/product/B0931YZ82P/ref=ppx_yo_dt_b_asin_title_o09_s01?ie=UTF8&psc=1
). It's only 1080p but I wanted it small and inconspicuous so it wasn't an obvious target for thieves. Was easy to hide the wire around the passenger side footwell, right side of dash, and across the top of the windshield. Has voice commands too which is neat.
-Detailing/Paint Protection (
https://www.amazon.com/gp/product/B08P53V7KN/ref=ppx_yo_dt_b_asin_title_o09_s01?ie=UTF8&psc=1
). Gave the car a good wash and applied this Hybrid Solutions Pro Flex Wax, Graphene Spray Wax while it was still a bit wet. Easy to apply (wipe on/wipe off). After it set for an hour I went back out to check on the results and almost fell on my face because I put a hand on the car and it slipped right off. Seems to be doing a good job of beading water and keeping the car shiny and slick to the touch. Will see how long it lasts. Says up to a year.
-Audio (stock version is really bad): I started with the 4" dash and rear speakers. Replacing them with Infinity Reference speakers (
https://www.amazon.com/gp/product/B07B8TKWS1/ref=ppx_yo_dt_b_asin_title_o00_s00?ie=UTF8&psc=1
), along with some bass blockers for the front set (
https://www.amazon.com/gp/product/B007JYZ3BG/ref=ppx_yo_dt_b_asin_title_o01_s00?ie=UTF8&psc=1
). Also used some wiring harnesses I found on Ebay so I didn't have to cut the stock wiring. Everything was fairly easy to install after watching various videos on Youtube where others upgraded the audio. Just replacing the 4" ones made a huge improvement. I tried replacing the kickers with 6.5" Infinity Reference speakers as well, but the stock amp just couldn't keep up and the audio quality become much worse. I am happy for now with just the 4" speakers upgrade.
-Programming: Along with the audio upgrade I also purchased an ODB tool (
https://www.amazon.com/gp/product/B01F0GVBWY/ref=ppx_yo_dt_b_asin_title_o04_s00?ie=UTF8&psc=1
) and unlocked extra volume in rear speakers, and unlocked Sport mode for my Badlands. Just followed the various YouTube videos that have been shared around the forums. Worked like a charm.
-Recovery gear: I am still going through review videos, learning about what gear is recommended, and slowly starting to put it all together. I do plan to attend the Bronco Off-Rodeo later this year as well as an Overlanding expo to learn more about gear and it's proper use.
Future planned upgrades:
-Method Race Wheels 701 Trail Series. Seems these allow you to air down further than stock non-beadlock wheels. As I am just getting into off-roading, these seem like a good entry level option that is still street legal. I like the look too, bronze wheel with Eruption Green body.
-Performance exhaust. I did an exhaust upgrade on the Mini Cooper and loved the beefier exhaust notes you can get. Haven't decided on Borla, AWE, or some other one yet though.
-Autostart/stop eliminator (
https://www.autostopeliminator.com/products/2021-ford-bronco-autostop-eliminator
). I didn't have luck getting it disabled via ODB tool programming. Just kept failing to write. Might have to go with this hardware based option.
I have yet to take my Bronco off-road yet, but already have plenty of trips in the works and friends with off-road rigs of their own to teach me the ropes. I have taken the Bronco to a mountain bike park and now I know what super models feel like. Driving around the parking lot had every head turning. Felt like the girl in the red dress!
I know there are still a lot of people that have been waiting a long time to get their Bronco and all I have to say is "hold strong"! It really is an amazing vehicle! The pictures and videos don't do it justice. The Bronco inspires me to adventure further and all the enthusiast content out there helps make it easy for DIY modifications to do even more! Maybe after I get some more off-road experience I will do a follow-up focused on what I figured out as a newbie to off-roading
Thanks for reading!
Last edited: