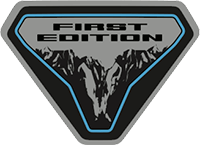 Member
After waiting very patiently for months, years - I finally got the call the my FE Bronco arrived. BUT, my rep said, it was damaged. Basically, the windshield frame, windshield and front portion of the roof were all damaged. Probably rode on the bottom level during transport. Maybe the car above was bouncing up and down, maybe it was mine. Maybe the driver drove it a little too far when loading it? I don't know but I am VERY DISAPPOINTED. I don't mind the windshield or even the top being replaced, since that's easy enough but the damage to the windshield frame is really depressing.
The three options my dealer gave me:
We'll fix it and you can buy it - Unclear what the vehicle history will be and quite honestly it doesn't feel like the new car feeling I was hoping for. I'll also need to sign a disclosure doc since the damage exceeded a certain % of MSRP.
Walk away - I'm sure the dealer would love this one.
Take a replacement F-150 Raptor - Not even close for an alternative. Apparently, they can't build anymore FE Bronco's (maybe true?), but not even offering me a Bronco replacement, just an F150. I confirmed w/ the dealer that they meant F150 and not the Bronco Raptor.
Ford needs to fix these delivery issues and take better care of these vehicles.