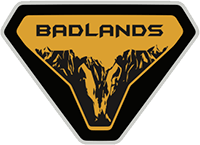 Well-Known Member
Joined

Jun 3, 2019
Messages
Reaction score

1,783
Location
Vehicle(s)

2021 Bronco Badlands non-sas 4 door manual
Bronco

Badlands
I have a 3D printer so I decided to draw up and print a mini accessory rail. The picatinny rail section I had is only 5.5 inches but you can buy longer ones on amazon. (This is just what I had already).
I should put up the disclaimer that I don't have high hopes of this holding up on hot summer days but its not hot right now, and there's nothing on the market anyway!
So far it works great, just wrapped up a 1000 mile road trip up to Copper Harbor and back with well over 50 miles off-road. Everything held firm and steady and it didn't take long for it to feel like a seamlessly integrated part of the Bronco.
The Rail: It is just a 5.5" 13 slot aluminum m-lok to picatinny rail adapter from amazon (part of a bundle I bought previously) and a 3D printed base. The rail has two screws which fasten it to the PLA base, but I also opted to add superglue to make sure the rail isn't coming off easily. I designed the base to use the same accessory mount and to fit firmly over the center pocket on the dash.
The phone mount: I am a huge fan of the magnetic phone mount, why people use anything else is beyond me (unless you are literally racing the baja 1000). I designed the mounts to fit with a generic amazon magnetic mount and included a slot so they can easily slide onto the pic rail. There is a bolt through the back of the mount to tighten it down once you have it in position.
I would consider selling these but honestly I need to figure out my costs and pricing and experiment with some better materials, especially considering there's a high chance PLA's going to look deflated come the first 90° day next summer.
Edit: I removed my link to the STL's as users on thingiverse were trying to sell for profit. I love this community and I want those with a printer feel free to enjoy these ideas, but my intention was not to provide free IP to other businesses lol. PM me if you want the file or want to purchase the rail assembly. This is not to call out anyone on the forum who was trying to support access in good faith.
Last edited: