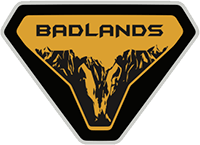 Well-Known Member
My dealer (LHM Ford Mesa, AZ) had a 4 dr OBX and a 4 dr BD. My wife is getting a 4 dr squatch OBX and I am getting a 2 dr standard Badlands.

My overall impressions: the back seats are roomy (I'm 6'3"), and the build quality looks good, and I will be happy with both vehicles we are getting.

i really like the modular bumper and I much prefer the 8" display. The mgv is ehh ok, but I will get seat covers for sure.

i wish my Badlands had the base headlights and tail lights and base or BD grill. The 7 sp had a little sloppiness (compared to my gt350). It was cool to meet and talk to other 6G members. We're all super informed.