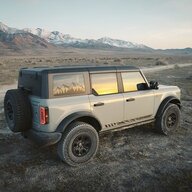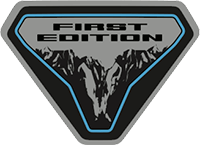 Well-Known Member
I was at KOH and I wrote a detailed review on the forum and the feedback from you guys was overwhelming. If you haven't, you can read my full KOH ride report here:
https://www.bronco6g.com/forum/thre...ack-report-and-new-information-gleaned.12330/
Now I went to Moab last weekend and I did ride in a 33" Badlands 4 door which is great because I can directly compare it to my ride at KOH which was on a First Edition with Sasquatch.
Of course my general impressions and comments of the Bronco from KOH still stand true so I will not re-write everything here. Just adding new comments and comparison.
I will post all the pictures (taken with a pro camera) and some videos from the ride on my IG:
http://instagram.com/broncoexplorers
So here we go with my comments in no particular order:
- 33" Again gave me a good impression in term of look. We were 3 friends this time (one of them also rode at KOH with me) and we all agreed that 33" looked great on a 4D Bronco. 35" did look a bit better side by side, and all 3 of us would be very happy with either options (again just from the look).
- Now the most important part. My comparison between riding 33 and 35in tires: more difference than I thought. Both my friend and I agreed that we flew over rocks and obstacles smoother with the 35" at KOH. It was obvious. Especially in the sand dunes (that had very similar depth and pattern at both event). However I'll say this: the 3rd person that was with us and that was not at KOH was absolutely blown away by the ride. So first, yes you can see the difference driving side by side but if you buy a 33 you will never feel like you don't fly over rough stuff well, secondly the capabilities are very similar. In the end we did the course at the same speed as the 35s in front of us. It was just 5-10% rougher.
Note: driver rode both multiple times. He feels the same way as us. Also he recommends 33" for most people and said it's even an advantage in some situation due to the width and the Bronco being already quite wide. He said 35" feels worst on the highway too. (keep in mind he only tried the Broncos with 30PSI in the tires)
- The MGV felt great. For us, the interior of the BL was much better looking than the blue first edition dashboard but this is personal preference.
- Upgraded 33" tires (same as Sasquatch tires) felt great with minimal noise on the highway
- Driver floored the 2.7 on the paved road and it's more power than I'll ever need. 2.3 should be great too.
- Don't stress too much about color choice. Each time I see a new Bronco color I love it. It's not because the color is great or better, it's just that the Bronco looks great, with most colors. You will probably love what you chose.
A few negatives:
- We could try the upgraded sound system from the lux package. We were not impressed. Just don't set your expectations too high and you will be fine. Bass was strong but not rich. Trebles and mid sounded worst than our respective cars.
- At 75mph on the highway, the wind noise from the closed soft top was bad, worst than on a Jeep JL. The driver said it was because it's pre-production. Unfortunately, we did not drive the first edition (with hardtop and sound deadening) on the highway at KOH to compare but I did not notice any noise at 60mph on the dirt.
- The body roll on the road was severe. I am wondering if the badlands has softer suspensions (because it's more rock crawling oriented). I asked the driver and he said it's about the same as Sasquatch but Sasquatch feels even worst (in body roll) because of the tire width and low pressure.
For me it's not a problem as I guess it's a compromise you need to make if you want great off road performance but I thought it could bother some people.
Overall an amazing vehicle and I am super excited to receive my Badlands. Hopefully it gets here sooner than later!
Here is one teaser pic