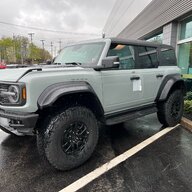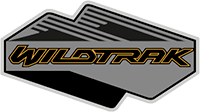 Well-Known Member
First Name

Raptor911
Joined

Jun 17, 2020
Messages
Reaction score

5,865
Location
Vehicle(s)

Ordered: 2021 Raptor (9/23/2020 build day)
Bronco

Wildtrak
Took my wife and my son. My wife wants a Wrangler and I said NO. No way in hell Woman. I make the $$ in this family so either you get a Bronco or you keep your 2018 Lariat! GRRRR!
My wife was reluctant to go BUT then she saw the 4-door AMB Black Diamond with SAS in person, she had a change of heart. We get home and she tells me I want that dark blue color and I want those BIG tires, "no point in getting this vehicle with small tires". YES Honey >> I WIN!
I will keep this short. With most now getting a chance to see the Bronco in person I wanted to focus on 3 items that have not been discussed:
1 - With the 4-door, how much does the back seat recline? It just reclines 1 - notch. See pic below.
2 - The sensor right in front/center of the bumper. I assume this the Adaptive Cruise Control sensor. How is it attached? Is it attached to the bumper or the louvers in front of the inter-cooler? It looks like the ACC sensor is attached to the louvers in front of the IC
3 - The inter-cooler. Is there room to run a bigger one? BTW, upgrading the stock IC is a common mod in the Raptor world. It appears that there is little room for a bigger IC in the Bronco. In order to get a bigger IC, you will have to remove the IC louvers and if you did this how would you mount the ACC sensor?
Most will not care about points 2 and 3 above BUT if you are hardcore about getting more cooling (running a bigger IC) or even running an aftermarket bumper closer to the body for better approach angles, you will have very little room to do so. Let's see what the aftermarket can come up with.
I tried to ask about the Warthog BUT I was told "They don't tell us anything because of people like you" ...
some quick take aways.
- SAS is the BOMB. I did not care for the 33s on the Badlands
- The Bronco with SAS in a BIG vehicle. There was a man there with his lifted wrangler and it looked like he had 37s and the Bronco with SAS looks to be the same size
- SAS package removes the front crash bars
- Antimatter Blue is REALLY REALLY beautiful in person. In the shade, it was black and in the sun, it sparkled. I think AMB broke my wife.
Last edited: