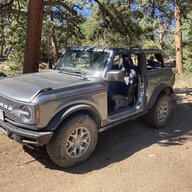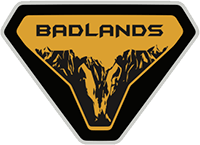 Member
First: The Bronco is not my daily. All the miles on my Bronco are either off-road, getting to the trail, or towing a trailer... the rock rails and skid plates are already marked up and will continue to be. The exterior paint is full of bush pinstriping that can be corrected when I want want it to be. I purchased this vehicle with the intent on getting it dirty, but I also intend to keep it a while and like to keep my vehicles in good condition for my own OCD and future resale value.
Second: I've seen other threads where people have noted how easily the interior plastics scratch.
In Summary: This thread is intended to identify and prevent needless damage in common problem areas.
Rear Seat Belts: On my 2 door, the rear seats have only been used once. The seat belt buckles are starting to rub into the hard plastic (I have less than 1,000 miles). I'm planning to wrap an old sock around the male end of the buckle.
Center Console: This picture is of the passenger side of the center console. I'm not sure what's causing it. Likely the female end of the seat belt? Again, I've only had someone in the back once... so the seat has only been folded a few times. Considering adding the sticky back felt that you can buy for furniture feet and applying to the female end of the buckle.