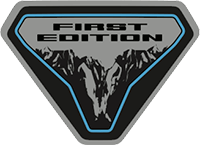 Well-Known Member
​
​
​
Thank you for placing your reservation for the all-new 2021 Ford Bronco. We are so excited to bring Bronco back into the wild and are humbled by the consumer demand we have received so far.
In fact, consumer interest was so high the night of our reveal that some aspects of our website did not perform as intended for selected Ford Bronco enthusiasts. While we worked quickly to resolve these issues, we want to ensure we got everything just right with your reservation.
​
​
​
YOUR RESERVATION IS CURRENTLY HELD WITH:​
XX FORD
Dealer Address:
XX
Reservation #: 1011XXXX
​
​
​
If everything went as planned with your reservation, there is no action required.
In the event you were not able to place your reservation with your preferred Dealer, you can contact our Customer Relationship Center at (800) 334-4375 and they will be happy to make the change in Dealer selection for you. Your reservation will not be impacted in any other way, including your Reservation ID and the time you placed your reservation.
Dealer change requests must occur before October 31, 2020. After that date dealer change requests will not be accepted.
As a reminder, you will be able to update any aspect of your selected Ford Bronco with the exception of changing to a First Edition (reservations are full) when you convert your reservation to an order with your Dealer beginning December 2020.
Thank you again for choosing the Ford Bronco for your adventure!
You can log into your Ford Account for the latest info on your vehicle.
​