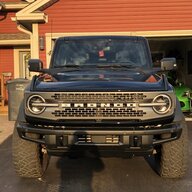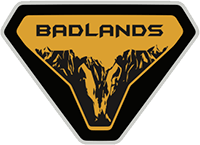 Well-Known Member
First Name

Thomas
Joined

Jul 25, 2020
Messages
Reaction score

1,098
Location
Vehicle(s)

Dodge Viper
Here's a few quick pics of my bronco, I took delivery today! The weather here is terrible! Pouring rain the last few days! 35's fit surprisingly well! Zero rubbing in normal road conditions! I don't even think they will rub much off-road! And they actually ride better then the standard badlands wheels!
Specs:
35x12.5x17 -0 offset Fifteen52 Traverse wheels 17x8.5!
Some Q&A:
Nice!

I'm surprised to hear they ride better... were your original tires still set at 50psi?
Not to sure they were set at the dealership I'm assuming before I took delivery! I found the standard badlands wheels and ko2's I could feel more of the road, cracks and bumps etc! Also I find the bronco to be higher of course, with hardly no sway like a jeep! The bronco is way better in every way! And everyone I talk to says they same! It looks and feels like a a truck or big suv more then a jeep!
How's the condition of the MIC top?
Looks fine so far! Few of the ends look raw but looks fine to me!
Quick question. Did you remove the crash bars . also did you notice much of a difference in the break pedal feel .?
Yes I removed the crash bars! Yea the braking is a little bit not as good but it's hardly noticeable!
Did you have to go with a level at all? or just swap out the wheels and tires? I've been looking to do the same.
No level lift! It's the factory badlands suspension, it maybe needs a level lift! But I think it will be fine for now until I get a more of a lift if I want to!
What offset did you go with on the rims?
-0 offset, fifteen52 traverse wheels!
Looks good

Any issues squeezing the spare on like that?
No issues at all!! Fits perfect
What are the specs on those wheels? size? offset?
35x12.5x17 -0 offset fifteen52 traverse wheels!
are the fifteen52 wheels a 17x9 or 17x8?
17x8.5
Ya. I noticed quite a change when I Went with 35s on my 2020 J.L . As for the rest of it all was great. I'm not sure if I'll stay stock or not . I've got a BL 2 door coming SOME day.

. Yours looks great congrats.
The bronco can handle 35's better then a jeep! Rides way better, almost zero sway! I drove both through town and on the highway! 110kmh, and the tech is awesome! Feels strong and tough!
Lose much power not re-gearing?
How is the road noise in comparison to the KO2's?
I didn't notice any power loss! The dealership told me to drop down tomorrow to try to recalibrate the computer for 35's they emailed Ford and they emailed back and said they don't know a whole lot about it yet and to try to recalibrate!
Awesome build! I'm looking to do something similar! Most people already asked the important questions but I've got 2 more!

1) Did you feel like you lost any power without the regearing? (also are you 2.3 or 2.6)?
2) How much off-roading do you plan on doing? Any chance you can take a few pictures of this beast flexed in the front/back to see if the tires still rub?

Thanks again for the post man! This info is huge!
I didn't notice any power loss! I have the 2.7 v6, planning on doing mild off-road until I upgraded the suspension! I'll take more pics when I get the chance!
Question: I'm ordering the same wheels in Block Bronze and I was wondering if I needed the "hub rings"? Not even sure what that's about - excuse my ignorance.
Yes fifteen52 recommend getting hub rings I have an aluminum set pick up hubrings 106.2 to 93.1
Looks great! I'm not sure if I missed it, but that is not a Sasquatch package, correct? Love those tires! Have had them on my JK for the last two years.
No sas just standard badlands!
Added walkaround videos!
.
Last edited by a moderator: