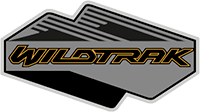 Well-Known Member
Thread starter

Thread Starter
Not sure about "quite a bit more expensive." For those that dont want 35" tires not really.
3k?
Im going loaded badlands because I want the steel bumpers etc but dont want sasquatch package.
Yeah it's possible the Badlands without Sasquatch package and with Lux + 2.7 + Auto, might be around the same price as the WildTrak + Lux and if so, I'd for sure be tempted to do that. Badlands basically has everything from the Sasquatch already right? Minus the 35" tires, high clearance suspension and fenders. I'd rather put 35" Nitto Ridge Grapplers on whatever I get over the M/Ts they come with anyway. So really I guess, like a lot of these threads, this all comes down to the Build & Price haha. Can't wait.