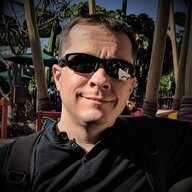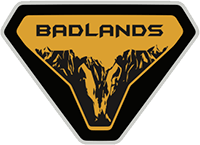 Well-Known Member
First Name

Sean
Joined

Jul 21, 2020
Threads
Messages
Reaction score

5,159
Location
Vehicle(s)

Nissan Sentra, Mercedes GLC
Your Bronco Model

Badlands
Finally got to take the King in Yellow off road yesterday!
Joined up with a local group - Gold Country Broncos. Great group and I'm looking forward to more adventures with them! We had a plan, it did not pan out, we readjusted, and had a great day.
Plan was to head up to Saddleback Mountain and then on to Poker Flat - the trail runs roughly from Downieville to La Porte in California - around 70 miles northwest of Lake Tahoe. One of the members had scouted the first part of the trail earlier in the week, so we knew to expect snow and ice.
Eight Broncos in total made it out for the trip. Started out fairly dry but we started hitting snow as we climbed in elevation. We reached a turnoff - and took a left instead of a right. Left took us down a short trail to a mine (Telegraph Mine I think). Fortunately there were a couple of buildings - and a snow cat - with just enough room for us to turn around. We made prudent use of Trail Turn Assist to spin around in the snow instead of a series of tight 5-point turns. A guy poked his head out of one of the buildings and immediately got a confused look on his face at the sight of a bunch of Broncos.
We headed back up to where we made a wrong turn, which meant a largely blind hard left turn going uphill in ice about 160 degrees the other way. I really wish I'd been able to see what angle everyone else made on that turn. I think I cut it too soon. A few back and forth readjustments, and managed to get myself basically high-centered on the snowbank. My tires had contact, but not enough to get any traction. Another member of the group grabbed a shovel and cleared some snow from under my inside rock rail while I grabbed my recover boards and dug out behind the rear tires. Jammed the boards underneath and was able to get back down. Tried a wide approach and Turn Assist with some gas and spun around the turn just fine.
At which point the decision was made that it would take far too long to reach the peak at Saddleback Mountain - given the repeated need to winch across the ice - so we were turning around. So I had to back around the same corner I just dealt with.
Some good spotting got me back around. I pulled ahead and we got everyone else back around and lined up. So then I found myself in the lead heading back down. This up and down was definitely a bit of a crash course in driving on ice off-road - on the side of a mountain. (I've driven in snowy conditions before, just not off-road.) Was definitely feeling much more confident by the time we got down.
We got aired up and headed into the small town of Downieville. Cool little mountain town! Would probably be a nice overnight trip in the future. We checked out a small coffee shop - which had a wall of individual mugs for the locals - and talked to guys manning the counter about where we might find some other trails in the area at a slightly lower altitude. They pointed us to Mountain House Road just south of town, which they said should be clear of snow.
Two of our group headed home with family obligations, and the remaining 6 headed to our second trail of the day. We did encounter some snow, but nothing we couldn't handle. Found a nice open area near the top to stop, stretch our legs, and take some pics. Headed down, encountering a couple of small downed trees on the way. Passed through the small town of Forest at the bottom. Listed with a population of 4, so the 8 people we had in our 6 Broncos effectively tripled the size of town as we passed through. We stopped at Bullards Bar Reservoir on the way back and chatted a bit, before crossing the damn and heading home.
Had an awesome day with a great group! Got a lot of use out of the Bronco's features and some of my gear. Sway Bar Disconnect, Front & Rear Lockers, Trail Turn Assist, GOAT Modes, recovery boards, GMRS, GoPro dash mount, and Garmin InReach - got legitimate, valuable use out of all of it. Learned a lot and looking forward to next time.