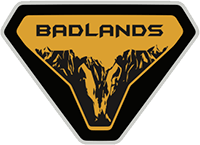 Member
I had spent the last 2 weekend wheeling a LUX 4Dr Badlands with the Sasquatch package and have some learnings to share. Trails were rated as "moderate" but most rigs were on 37's. Mostly dusty and rocky conditions here in CO.
Tire Pressure
The stock 39 PSI (cold) tire pressure Ford recommends for daily driving is bouncy and stiff on road. I prefer 36-37 PSI (cold)
Off road, I found 20 PSI to make the ride much more comfortable while leaving plenty of pressure left to keep the bead seated. If I drive slowly, I can make it to the gas station to air back up. On board air kits not available yet. *EDIT* Community has spoken, I will try 15 PSI next weekend!
Trail Rash
The beauty rings on the rims do get scuffed up fast, but most of the scuffs will buff out with a random orbital or rotary pad (3 inch worked for me). I would not powder coat or plasti-dip. You can't polish out the scratches on those.
There is no skid plate right before the transfer case, there are 2 frame supports that hang low and get smashed first when you high center. No OEM or aftermarket skid plates currently cover this area, keep an eye out for wide rocks that take up most of the trail and the long wheelbase of the 4 door. Go SLOW over these till a skid comes out.
Ford Sync 12 inch screen gets scratched fast if you have dusty/dirty fingers from airing up/down and general dust being kicked up. I would recommend a screen protector XPEL already has a soft protector, but if you can wait for a tempered glass version.
Loose rear seat belts rub & wear on the plastic walls, consider clicking them in or adding PPF/cloth tape to the walls. Ford has some soft protective tape on them, but its not enough in my case.
With the Sasquatch package making the vehicle high, shorter folks will use the door sill panels as a step, and tend to slide down the corner as they exit (even when being careful). Most scuffs happen in the front 2 seats, entry and exit is easier in the rear 2 doors. Consider wrapping in your favorite PPF film if you have anyone under 5"8 going in and out.
Accessories
The fold down tailgate door is difficult to install, requires very precise drilling, recommend specialty tools not included (drill stops) and the short jack nuts that fill the drilled holes are very weak and break easily. Pay the money to have the dealer to install the tailgate fold down table TRUST ME.
Last edited: