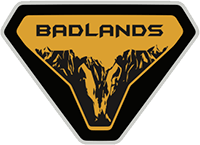 Member
"For the best tire life, a five tire rotation is recommended that includes the matching spare tire mounted on the back of the vehicle. This rotation requires a forced re-learning of your tire pressure monitor system sensors
by your vehicle, and should be performed by an authorized dealer or a service center to ensure the tire pressure monitor system will provide proper warning at all times. When performing the tire rotation yourself, a four tire rotation is recommended, without using the spare tire in the rotation, so that no tire pressure monitor
system sensor re-learn is required. If a five tire rotation is performed without a tire pressure monitor system sensor re-learn, the system may not provide a low tire pressure warning when necessary."

That stinks. Although "may not" doesn't necessarily mean that the bronco isn't smart enough to figure it out. Unclear.
Good find!
However, dont worry just yet. This is what my 2014 Focus ST manual says also, but its not necessary. I swap between winter and summer wheel/tire sets every season and was worried about reading this. I even researched an aftermarket tools to do the re-learn myself. But the car seems to just learn them by itself everytime, so I never bought the tool. I rotate and swap every season for the last 7 years. Using an android app I can always see 4 tire pressures with either set of wheels/tires. I did buy factory TPMS sensors for my winter set just to have the best chance of the car finding them. Hopefully Bronco is as smart as my Focus.