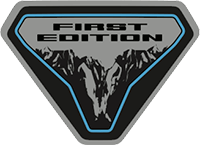 Well-Known Member
Someone posted that you can't get a soft top on a FE. I responded that I ordered that I had ordered my FE late availability with a painted top and soft top combo. This is the reply that I received....


Are you serious? Ford announced that there will be no painted black tops in 2021 and you can only purchase one top in 2021, no more duel tops. The FE's, which I have on order too are only allowed to pick the molded in color top, because Ford doesn't want those coming out in 2022. You have until April 8th to make any changes to your FE order. You should have received an email about this.

As of today, I think I'm scrapping my FE order and getting a fully loaded Badlands. There's nothing really special about the FE's to me anymore other than they get a shiny black painted grill that won't go with the top, some black hood and side graphics that won't go with the top, and the fact that ford is only selling 7000 of them at a premium price.

Not to sound all negative, the price of the vehicle will be reduced by the cost of the two roofs you had ordered and I believe Ford is taking $495 off the price because they decided to put the sound deadening headliner in all the 2021 hard tops. Wonder why that is? My guess is those MIC hard tops don't block out much road noise and they know it's going to be an issue. Also, Ford is giving everyone that had a painted black top on order the equivalent of $1,000 in accessories of your choice that you can purchase through your dealer and a $250 credit towards one of their Bronco Off-Roadeo events. In my opinion, not enough for a $70K+ vehicle.


Has anyone heard of this? I haven't been notified about this and I'm having a hard time believing it.