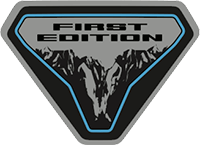 Well-Known Member
With excellent help from BlackJack Speed Shop in San Antonio, TX and while deciding if/how to handle the MIC top paint/wrap:
fifteen52 White Aluminum "Steelies". Color matched grille. Color matched Area 51 letters. Painted horse emblem. Vinyl wrapped mirrors. White D Rings on tow hooks. Bronco fender logos. First edition badge relocated to swing gate. Ridergraphix white graphics door and hood.
Rigid lights on mirrors (Aux 1). Baja Designs pocket lights (Aux 2,3,4). Tint driver/passenger.
Update: killed the white mirrors, with top off.
UPDATE: removed hood graphics, added splash guards to front. Added splash guards. Next: vinyl wrap MIC top. Out at ranch.
Last edited: