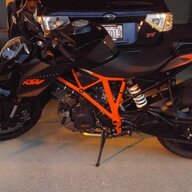 First Name

Mike
Joined

Sep 16, 2020
Messages
Reaction score

59
Location
Vehicle(s)

2011 Subaru STi Hatchback / 2014 KTM 1290R
Cactuses are not always green. They can be gray. Just like roses aren't always red.
You'll also notice that they also have green and/or blue undertones which also plays a part in how the gray appears (how dark the gray is). You'd be surprised what is in some of these solid (non-pearl) basic colors to achieve their look.
There were times when I mixed certain colors I thought there was no way it was going to be close, but once you removed the can from the shaker/mixer and popped the lid, there is was.
The color Gray isn't just white and black in varying amounts. It can have blues, greens, reds, or yellows in it to achieve the desired appearance/tone and how dark or light it is also comes into play.
They start 'tinting' (adding colors to) the main formula to see how it reacts to the tinting color they used and how it looks once sprayed on a test panel. The panels can also have multiple 'stages' on it where they mask off each attempt before spraying the next one with a different amount of that 'tint color' for comparison.
Sometimes it can take quite a bit to change and others just a little will have a huge effect. This is what is more than likely what is or has been (for all we know) going on with Catus Gray.
On a similar note but somewhat tangent. I still have the 12x12 test panel I made when I went to training school on repairing the Cadillac Alante tri-pearl white. (does this give away my age? )
It's stashed away in storage, but it is a panel where we sprayed the sealer then white base color. Then we masked off a portion of the base color and sprayed the first coat of pearl and repeated this 2 more times with the pearl. When all the pearl was sprayed we unmasked the panel and sprayed 2 coats of clearcoat. The change in how it looked from stage to stage was eye opening.
It went from a clean vibrant pearl white to a darker some what muddied pearl white. (it was also a pain in the arse to blend out on paint repairs because of this)