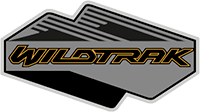 Well-Known Member
Let's play Count The Colors :

Grabber Blue
Silver
Roast (Tan)
Black
Dark Gray
Some shade of copper

All inside a RED vehicle
Even the seat belt release is a different shade of red .

This seriously looks like a kindergarden kid went crazy with the crayon box .
It gets even worse...if you have the 2 door the exterior color is exposed through the doo, so you can add even more madness.
Hell yeah man lol. Outside of that exposed door being a popsicle in the winter, the color matching is wild. OBX is horrendous and it seems everything looks a little better on B&P... So for fun and a good laugh of the OBX I did some builds.
So OBX has navy and brown seats, with some black trims around here and there, a silver and bronze dash, with Grabber Blue accents. Slap that together with a race red or velocity blue exterior, which you would now also get inside on the doors, and guys you got a shit storm of colors going on.
Looks great Ford color team!