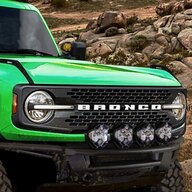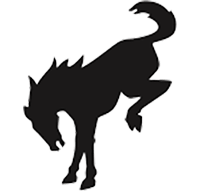 Well-Known Member
Went over to the Bronco sleeping grounds in Phoenix today.
Drove in my Wrangler running on 35"s and a 2" lift.
The Wrangler and the Sasquatched 4D Cactus Grey Bronco are almost exactly the same hight.
Cactus grey is indeed US Military Fighter Jet Grey.
It has an extremely light green tint that cameras love to emphasize.
US Airforce airman ( B6G lurker) there at the same time commented that it's Military Grey with a gloss coat.
These pictures came out right.
More pics of the Cactus Grey that came out too green.
Also, those GY Territory tires hold rocks like they were gold nuggets.
I counted 8 rocks stuck in the front driver's side. quit counting after that.
Those tires are getting replaced.
Finally on the Sasquatch.
Ford really pushed the DOT fender coverage envelope.
Not much point in getting smaller flairs unless you want to beat the paint up on the side of you Bronco.
On to Cyber Orange:
The CO should have been called Early Bronco Chrome Yellow metallic.
This was the only non-frankenbuild there at the time.
It looked to be about the most prodution accurate of the Broncos there.
CO looks great, but I'm glad I saw it in person, because it's off my list.
Overall a really nice color that shows off the Bronco's lines.
The MIC top is beautiful on this.
last and least was the beat up black OBX with the hideous prototype top.
It has the Bronze dash.
That looks *good*!!
Last edited: