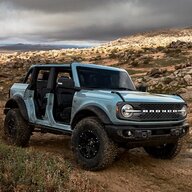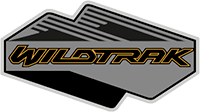 Well-Known Member
So I know that when December hits we'll be scheduling with the dealer to order what we want. Does anyone have answers for these questions pertaining to the order?

1 - Can you order the roof rack as a separate part (Not installed) with a Badlands 2.7l Squatch? I understand you can buy it later but my assumption is Ford Bronco Parts are going to be in short supply for months after first deliveries and it would suck to not be able to take a trip and put some stuff on the roof for 6 months after owning a Bronco.

2 - Are the Badlands Squatch rims and the Wildtrak squatch rims the same except for the color of the beauty ring? Do you think we will be able to order the all black beauty rings and replace the grey ones?

3 - Not being able to install the SD headliner with a 2.7L has to be a bug, but if not will we be able to order and install it ourselves? I know I could go Hot Head once they decide if they will make it from the Bronco, but again, will probably involve a wait.

4 - Anyone heard of AMP Research for sure making Bronco steps? Would like to replace the Badlands Rock Rails with some powerstep XL's to help my wife and daughter get into the vehicle easier. Also, I know Ford uses powersteps made by Amp, any chance this could be a DIO?

5 - From what I've heard, the dealer can make changes on our builds in the system up until they create the VIN and schedule it for production. Is this true? Would be nice if new accessories, options, bug fixes come after we order to be able to update our builds.
Last edited: