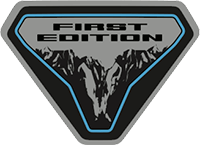 Well-Known Member
Who's smart enough to figure out what all the various seemingly-random codes and numbers on the sticker mean?

For example, MIC-XXXXXX at the top. I'm assuming MIC in this case means "Michigan," and I'm curious if the number to the right has anything to do with the approximate Bronco number yours is rolling down the line...

Next, the codes below where it says "SPECIAL ORDER," or the number near the bottom right below the green margins...