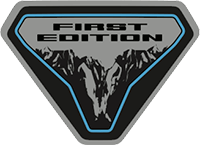 Well-Known Member
Oh, and dealer allocations have yet to released for MY22. But one would assume that if Ford doubles production in 22 then dealer allocations will double as well.



Yes. The offer got a lot of traction when it first opened up and quickly attracted the attention from Ford. So our dealer opted to play nice with the rest of the area dealerships and limit participation. However, if you still need a dealer they will treat you fair and won't pile on dealer adm's or add on's.


Did you call your dealer and ask if you have a revised build date? I thought Ford was going to suspend hard top builds until sometime this Fall when the new MIC top is ready. My BL with the MIC was scheduled for 8/30 but I have yet to call my dealer and see if it has been rescheduled.
I have not called the dealer. Received the email below; however, website shows it's still in production. That's why I called Ford Customer Care. Good ole Conner said it's built and shows in production because it's waiting on a top.