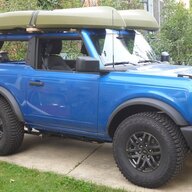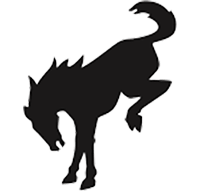 Well-Known Member
Joined

Aug 25, 2019
Messages
Reaction score

4,619
Location
Vehicle(s)

1972 Land Rover, 1985 CJ-7, 1998 TJ, 2014 BRZ
Bronco

Base
Vehicle Showcase
There are a lot of different ways to approach all this and many are informed by the terrain you intend to tackle... Personally, I went with the mall crawling super-spec, because it addressed my needs. I needed something that was going to be as good on the street as it was likely to be off the street.

I didn't want 35's, 4.7's, a front locker that didn't work over 20 MPH, wash out floors, or vinyl seats that I would stick to and burn in the Texas heat. I did want a really capable rig that had good articulation, was nimble, had adequate power, with all the modern creature comforts (ACC, AC, heated seats, etc). That's why I ended up with a mall crawler that needs a little modification to really achieve everything I want from it.

My ultimate mall crawler will see the dirt frequently. It's a simple plan 2D 2.7 Adv 4x4 OBX with Lux and Tow. Mix in the Badlands Shocks and Springs, a hidden winch, a TrueTrac Differential, and 33.5" Tires. That will be plenty capable.

I will likely add some additional underside protection, but beyond that... I don't see myself making too many other serious modifications. I guess if I am feeling froggy, I might put a 1" lift/leveling kit on it, but I doubt it. The only thing really missing, the Sway Bar Disconnect, which for my driving style and terrain that I expect to tackle, shouldn't be a big deal.
Depending if it ever becomes available, my plan is a base stripped down 2-door manual at the 30k mark. Nice thing about the manual, is it comes stock with 4.46 diff gears. In my opinion, those gears are a bit steep for the stock 30" tires, which is good because that gearing should be a decent match for aftermarket 33s without the expense of a diff gear change.
And since I'm a hobbiest MIG welder with a budget but capable plasma cutter, I'm kind of looking forward to coming up with my own skid/rocker/bumper designs. In fact, I was playing around with the "4th state of matter" today in the driveway.